Are you having a big-occasion bash? and looking for an experienced charismatic PEOPLE'S Emcee?? Great, you are at the right place. Here's introducing none other than MC FIFI, a charming personality of its kind. Young, Dynamic, versatile and accomplished and with my pleasing blend of inimitable style & eloquence.
Emcee Fifi has emceed for events of big Companies among them to name a few: GERA DEVELOPMENTS, INDIA BIKE WEEK 2017 FOR TRIUMPH, AXIS BANK, GLYCINORM, TITAN COMPANY, BAJAJ ELECTRICAL, SAMSUNG, INTEX, DURASHINE, TATA MOTORS, HORLICKS, AIRTEL, UNINOR E-MED LIFE, J HAMSTEAD, SIYARAM'S, MAHINDRA, GOA FEST. Also, The launch of INDOL IDOL ACADEMY in GOA. And The list goes on and on
A striking quality about me, a professional dancer, is to motivate the gathering, both the young and not-so-young to enjoy themselves to the hilt so that they will leave the show with "huge smiles on their faces" and sweet memories. The vibrant and vivacious FIFI ensures a smooth flow of your function right from the start to the end of the show. 
Your events are dear and special, give them to emcee Fifi, your reliable emcee for all your occasions.........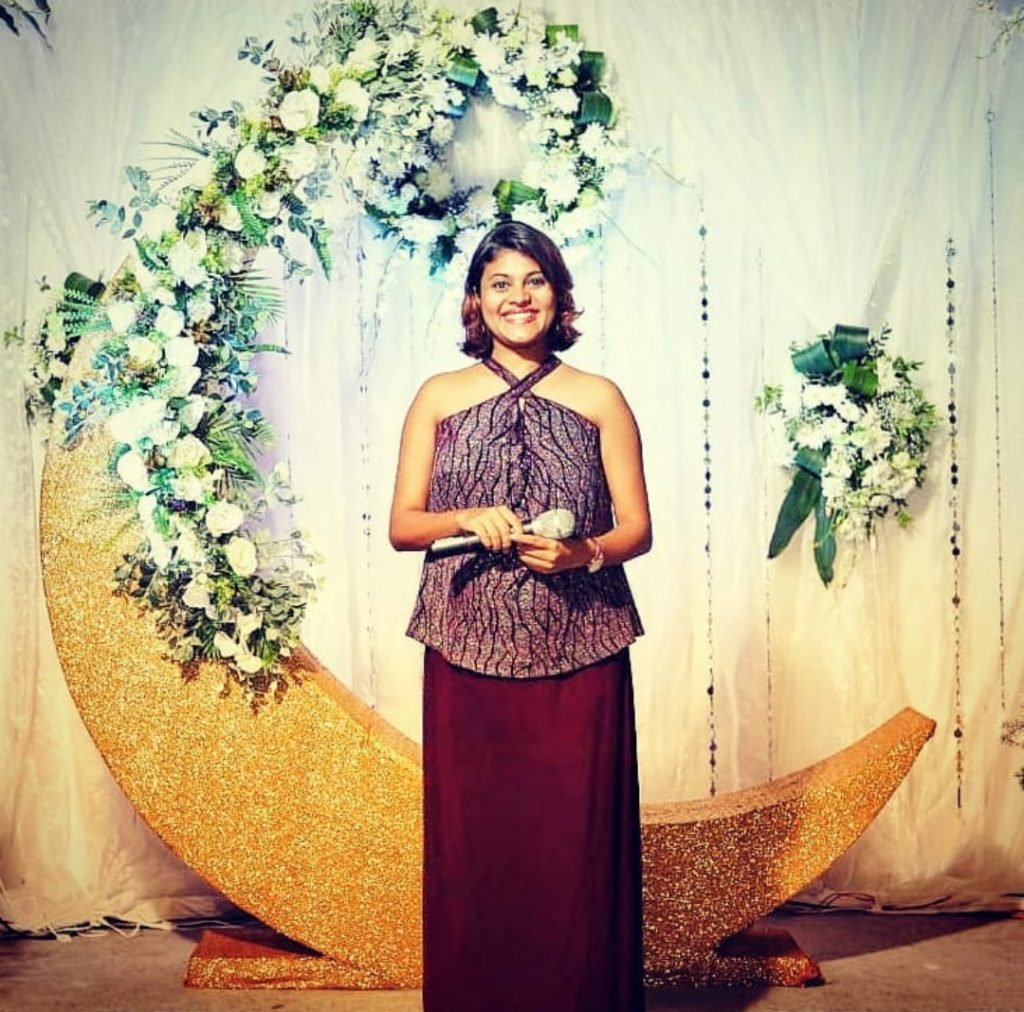 Whenever it comes to entertainment and Emcee it has always been FIFI. There is no one else that I am more comfortable working or have the most fun with. She is the best in what she does and I always had clients coming back to me and giving me good feedback about her . she is super punctual, energetic, and entertaining and knows to hold the crowd together.
I will always recommended her as an emcee for a successful event ❤️❤️❤️
Komal
Let me tell you a story about my wise sister.
This was 10 years ago or longer when she just started as an emcee.
She asked me to come along and I remember having a bad day.
She said- come you will have a nice time.
And offcourse I did.
But what I remember was how she made people around her glow, and laugh, and they were captivated by her energy, that's what she does, she transports you to la la land.
She makes you remember her.
And She will Forever Make Your Occasion Everlasting Memorable
Are you ready or are you ready to be transported?
Rafia
Fifi was a great great host. We had a super fun time with all the games she had arranged very different & creative ones & also how she held the crowd. She actually got kids out of all of us adults
So all in all she's a great host would loveeee to have her for other events too. Good luck keep going!!!!
Sneha
Thank you for doing my wedding. My wedding was great coz you made my crowd dance non-stop.
Definitely I must say you are the Best dancing Emcee.
Hats off to you. Definitely I will book you again for my brother's wedding.
Joao Fernandes
Look no further, hire Fifi!Could not recommend her more to anyone looking for a wedding MC!
Enjoy your wedding day without having to stress out about what needs to happen next. She is organized, thorough, and knows how to make your wedding run smooth. Remaining not overbearing but available throughout your planning process.
You can tell right away that she really likes what she does.
Blanche D'Souza
I hired Fifi to host my baby shower.
First of all I want to thank her for making my special event even more special for me! Fifi is a perfect host and knows how to capture audience attention. She has a natural flair and elegance that makes her perfect for the role!
She is very accommodating to your needs and requests , and also takes care of extra materials to be arranged. All in all I completely recommend Fifi as a MC/ host for your event!
5 ⭐️ ⭐️⭐️⭐️⭐️ to her👍🏻
Neekash Virani
Hi Fifi, just wanted to say thank you very much for making our wedding day extra special!
We were so impressed by how well organised and perfect everything was. We had a truly fantastic day and it wouldn't have been a big success without your help. You were amazing. Keep up the good work!! 💖
Love From
Tracy and Jude
A big thank you and heartfelt God bless to you, Fifi for being the best Emcee we could have ever hoped for on our big day.
Your engaging nature, humor and quick wit made the evening absolutely delightful. To anyone looking for a wonderfully eloquent natural emcee for their occasion, I highly recommend Fifi as the best of the best. More power to you ❤️😘
Love From
Luella and Divyanshu
THANK YOU so much for everything 🙏🏽
You pulled of the wedding really well, everyone were dancing all night and in just one meet we connected so well
I'm glad we chose you for our special day ❤️.
Would also like to thank DJ AFROZ for recommending u to us..
Love From
Olivia and Vricio
MC FiFi is one of the most energetic and lively Emcees I have come across!
Being a professional dancer as well, she is a natural entertainer and can engage with the crowd like magic!
Would definitely recommend her for any occasion, big or small!
Lendl D'Souza